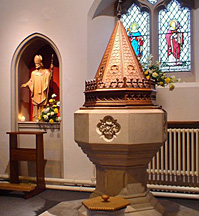 Welcome to the website for the Parish of St Ambrose, Kidderminster, together with the Sacred Heart Church, Tenbury Wells.
In 2017, the Parish will mark the Twenty Fifth anniversary of the appointment of the present Parish Priest. He is anxious that this should be marked by a series of pastoral initiatives which will be more appropriate than any other kind of celebration.
Accordingly, a Consultative Group has been convened representative of our Parish groups and of the wider Parish, and which will help to put this initiative in place.
With good wishes,

Fr. Douglas Lamb (Parish Priest).