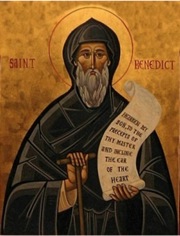 The Montini Group
In order to improve our sense of community still further, our MONTINI GROUP will embark on a study of the RULE of ST. BENEDICT. Our study will begin on Tuesday, September 17th at 7:45 pm. in the Montini Room, and will meet every Tuesday until Shrove Tuesday, February 26th (with the exception of October 15th when there will not be a meeting). Texts will be provided as appropriate.
The Rule of St. Benedict offers a very practical spirituality for those living together, not just in monasteries and convents but in homes, schools, places of work and; in our case, a Parish Community. This will be a different kind of approach from former years, with perhaps less emphasis on matters of doctrine but greater consideration of 'faith and perseverance in good works, under the guidance of the Gospel that we may pursue our way on His paths, and so we may deserve to see Him who has called us to His Kingdom.' (PROLOGUE, Para 21).
The meetings will be as follows:
September 17th An Introduction: St. Benedict and his rule.
24th The Prologue: 'Who longs for life….?'

October: 1st Living with others. 'I have joyfully offered all.'
8th The Abbot and Community
15th NO MEETING
22nd On Humility
29th On Obedience
November 5th On Silence
12th On Prayer
19th On Work
26th The Tools of Good Works I
December 3rd The Tools of Good Works II
10th The Tools of Good Works III
January 7th The Structure of the Community
14th The Practicalities of Daily Living
21st Those with special needs
28th Newcomers
February 4th Guests and Hospitality
11th The Penal Code
18th Stability, Conversion of Life: obedience
26th Chapter 72 A Panegyric on Love.
These meetings are open to everyone, and those wishing to know more about our Parish and life in the Catholic Church will be made especially welcome.